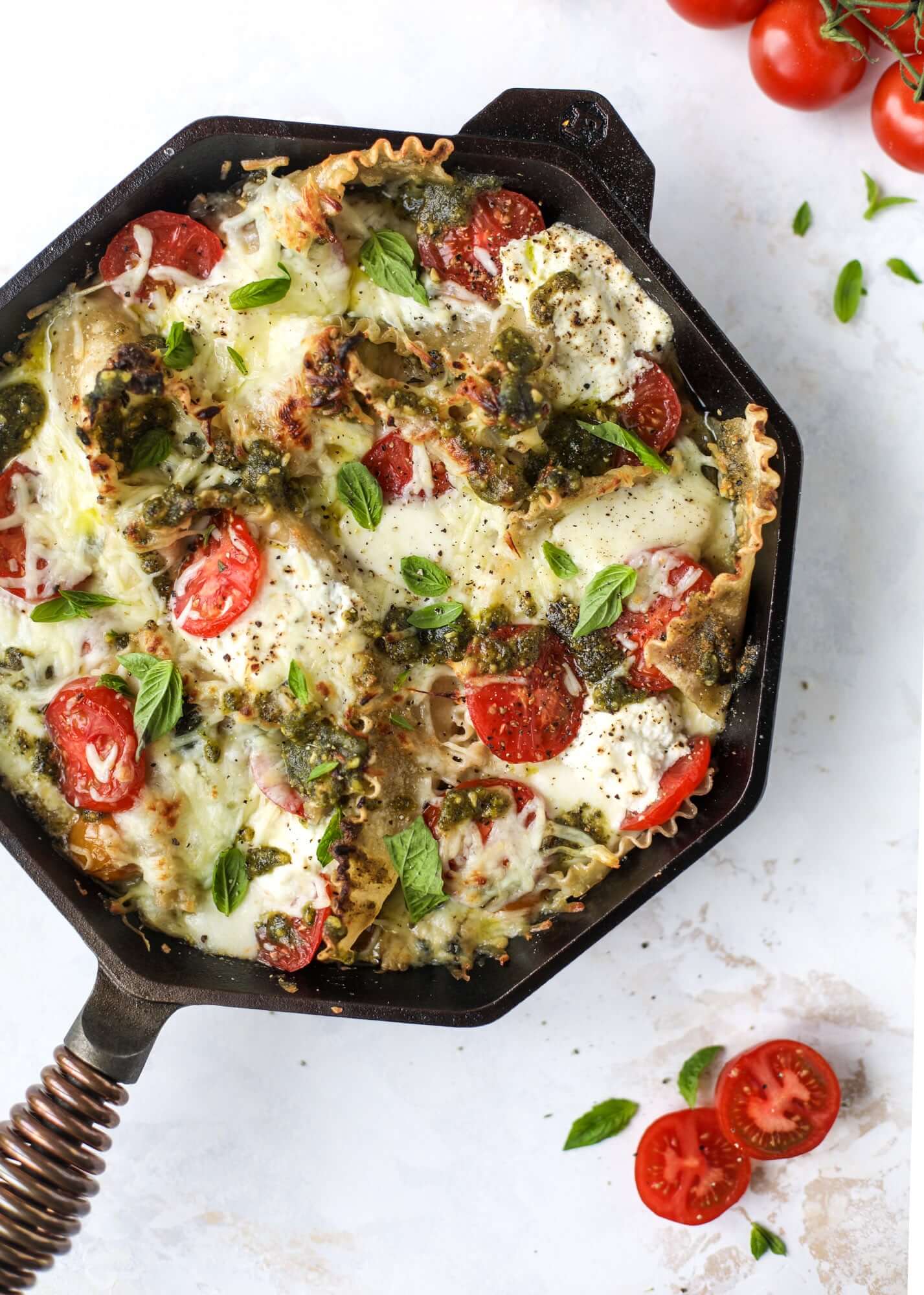 ---
---
Ingredients for servings
2 tbsp olive oil

1 shallot diced

4 garlic cloves, minced

8 oz grape tomatoes

8 oz fresh mozzarella balls

4 campari tomatoes, thinly sliced

0.25 cup(s) pesto fresh, leftover or jarred

0.25 cup(s) fresh chopped basil

1 package whole wheat/brown rice lasagna noodles

1 cup(s) ricotta cheese

0.5 cup(s) freshly grated provolone cheese

0.5 cup(s) freshly grated mozzarella cheese

0.5 cup(s) freshly grated Parmigiano Reggiano cheese

fresh basil leaves for garnish
Directions
Preheat the oven to 270°C.

Heat a 10 or 12 inch cast iron skillet over medium-low heat. Add the olive oil, then add in the shallots, garlic and and grape tomatoes with a pinch of salt. Cook, stirring often, until, the tomatoes begin to burst and break open, about 6 to 8 minutes. Turn the heat off under the skillet. You can mash up the tomatoes a bit if you'd like!

While the tomatoes are cooking, bring a pot of salted water to a boil so you can cook the lasagna noodles. Cook them according to the package directions, but shave 1 minute off the cook time so the noodles are al dente. Drain the noodles once they are finished boiling.

Take the noodles and begin to layer your lasagna. Put a few noodles down into the skillet, then add on some spoonfuls of ricotta cheese, pesto, some sliced tomatoes, some fresh mozzarella and some grated cheese. Add on a sprinkle of fresh basil. Arrange the noodles and repeat this process until all of your noodles and ingredients are used. Make sure you save a bit of grated cheese for topping.

Bake the lasagna for 25 to 30 minutes. Remove it from the oven and garnish with extra fresh basil. Serve!
Clap if you liked this recipe!
Caprese Skillet Lasagna
theSkullery.net