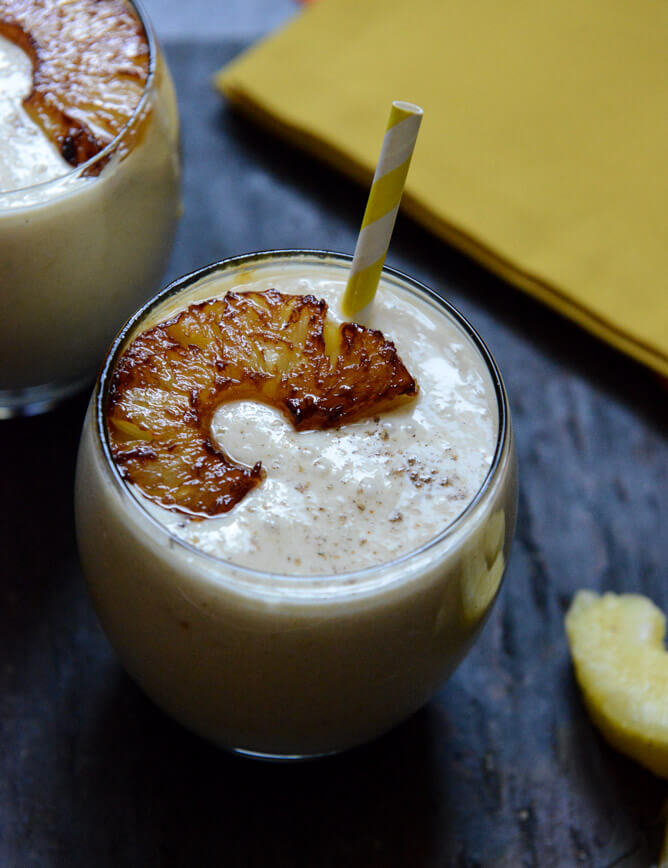 Caramelized Pineapple Lassi
---
---
Ingredients for servings
5 thick fresh pineapple rings

1 tbsp coconut oil

1 tbsp unsalted butter

1 tbsp light brown sugar

0.25 tsp salt

1 can light coconut milk

8 ounces Greek yogurt

0.25 tsp ground cardamom

a pinch of cinnamon
Directions
Heat a large skillet over medium-high heat and add coconut oil and butter.

Once melted, add in 4 pineapple rings and sprinkle brown sugar and salt over top. Cook until golden brown and "caramely" on both sides, about 5 minutes per side. Remove and let cool slightly.

Combine caramelized pineapple, coconut milk, yogurt, cardamom and cinnamon in a blender and puree until smooth.

Pour into glasses and sprinkle a tiny bit of cardamom on top.

Cut the remaining pineapple slice in half and add it to the top of the shake. Serve.
Clap if you liked this recipe!
Caramelized Pineapple Lassi
theSkullery.net