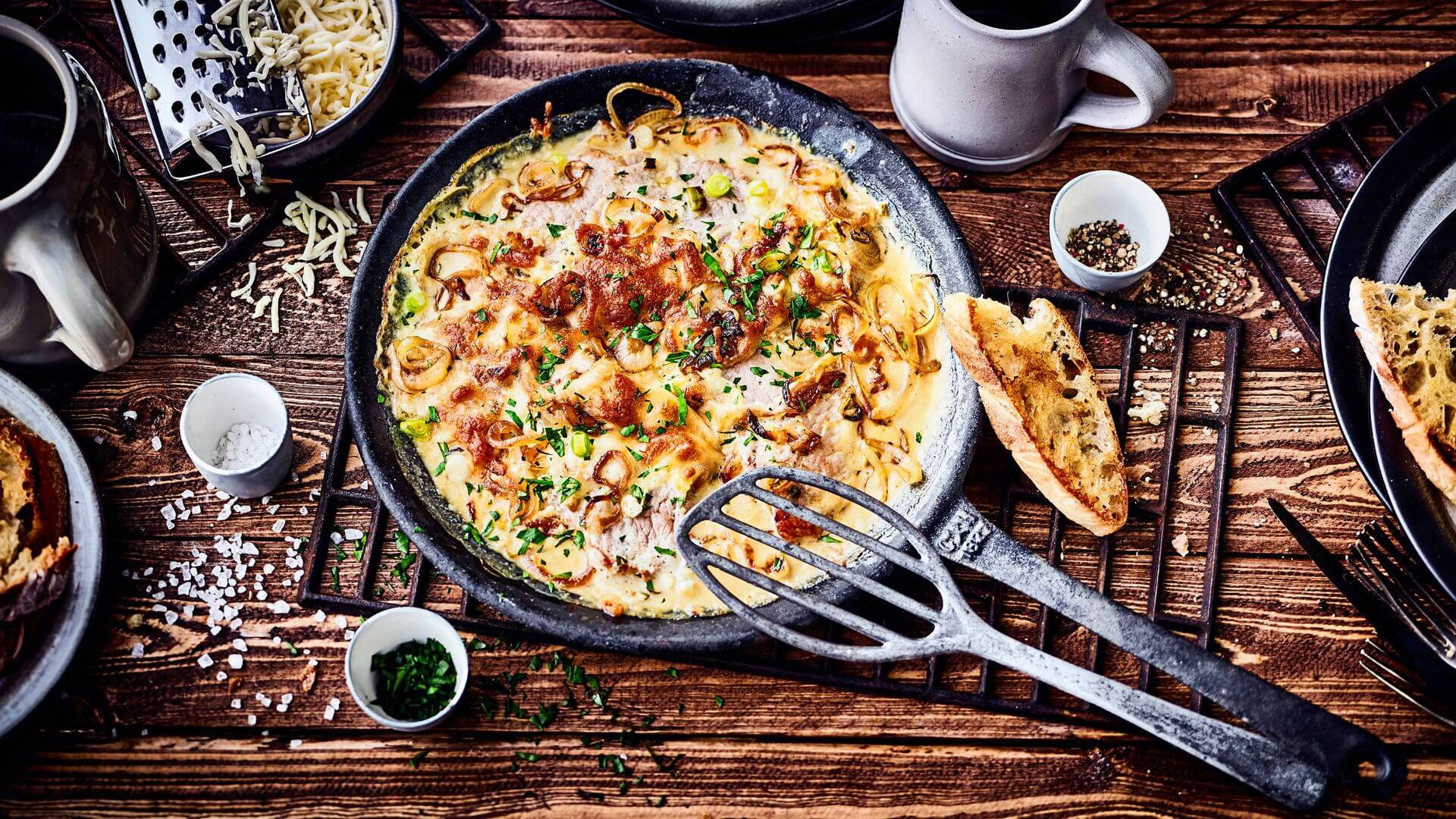 Mushroom Sauce Jägerschnitzel
---
---
Ingredients for servings
for the jäger sauce

1 tbsp unsalted butter

1 cup(s) onion, chopped or shallots

8 oz mushrooms, sliced I'd go for wild mushrooms, but anything works

0.5 cup(s) vegetable or beef broth

0.5 cup(s) white wine

0.5 cup(s), plus 2 tbsp half-and-half or cream, divided

2 tbsp all-purpose flour

3 tbsp fresh parsley, chopped

0.25 tsp salt

freshly ground black pepper

for the schnitzel

1 pound pork cutlets

3 tbsp all-purpose flour

0.25 tsp salt

freshly ground black pepper

0.25 tsp cayenne pepper

2 tbsp unsalted butter

0.5 cup(s) Butterkäse, shredded

for the spätzle

1 cup(s) all-purpose flour

1 large egg, lightly beaten

0.25 cup(s) milk

1 tablespoon unsalted butter
Directions
Jäger Sauce

Heat the butter in a skillet over medium heat.

Add the shallot or onions, and sauté until translucent.

Place the sliced mushrooms in the pan, and brown for 5 minutes, stirring occasionally.

Pour in the broth and white wine, and cook for 3 minutes.

Add 1/2 cup of half-and-half or cream, bring the mixture to a boil, lower the heat, and simmer for several minutes.

In a small, separate bowl, mix the remaining 2 tablespoons half-and-half or cream with 2 tablespoons of flour.

Add the flour slurry to the mushroom mixture, and bring to a boil, stirring to avoid clumps.

Add the fresh chopped parsley. Season with salt and freshly ground pepper.

Turn off the heat, and cover the pan with aluminum foil to keep the sauce warm while the cutlets are cooking.

Schnitzel

Preheat your oven to 200°C.

Lay the pork cutlets out on a cutting board.

Cover the cutlets with plastic wrap, and use a kitchen mallet or your fist to pound the cutlets until thin (1/4-inch thick or less).

In a separate bowl, whisk together the 3 tablespoons flour, salt, pepper, and cayenne pepper, and set aside.

Melt the unsalted butter in a medium-sized oven-safe skillet.

Dip each cutlet into the flour mixture, and shake off the excess.

Place in the skillet, and sauté in the butter for 3 minutes on each side or until the pork cutlets are cooked through.

Retrieve the still warm creamy jaeger sauce, pour it over the cooked cutlets, sprinkle on the cheese and transfer to the oven for 20 minutes.

Serve alongside the spätzle.

Spätzle

Bring a large pot of water to a boil over high heat. Mix flour, egg, milk, 1/2 teaspoon salt, and 1/2 teaspoon black pepper in a medium bowl.

Working in batches while using a sturdy spoon, force spätzle through holes of a spätzle maker or large-holed colander into the boiling water. Cook 3 to 4 minutes or until noodles float to the surface. Drain well into a colander, and quickly shock spätzle with cold water.

Heat butter and remaining 1 tablespoon olive oil in a large skillet over medium-high heat until foaming subsides. Add spätzle, shake once to distribute evenly, and cook without moving until lightly browned, about 2 minutes. Season to taste with salt and pepper and serve immediately.
Clap if you liked this recipe!
Mushroom Sauce Jägerschnitzel
theSkullery.net