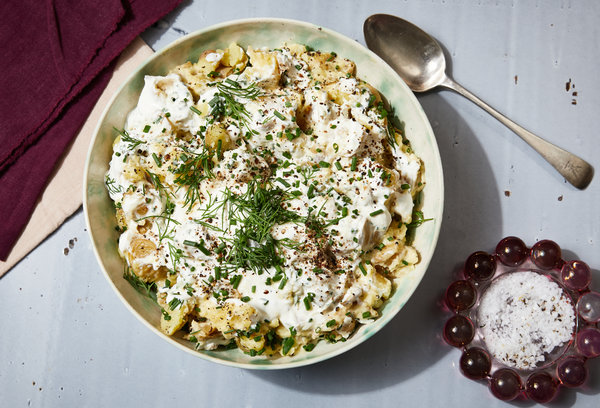 Smashed Grilled Potatoes with Sour Cream
---
---
Ingredients for servings
2 pounds small-ish potatoes, scrubbed

3 tbsp unsalted butter, melted

kosher salt

freshly ground black pepper

1 cup(s) heavy cream

3 garlic cloves, smashed

0.5 cup(s) sour cream labneh is amazing instead, but not accessible everywhere

0.25 cup(s) finely chopped chives, divided

3 tbsp finely chopped dill, divided
Directions
Preheat a charcoal grill to medium-high heat.

Place potatoes in a large bowl, and drizzle melted butter. Season with a few pinches of kosher salt and several turns of black pepper, tossing to combine. Tip out potatoes on to the center of a large sheet of aluminum foil. Place an equal-sized sheet of foil on top and tightly seal the edges.

Carefully place the foil packet directly over the heat, cover the grill and cook for 10 minutes. Try to maintain a temperature of 400°F inside the grill. Carefully flip the foil packet, and continue to cook until the potatoes are very tender (about 10 to 15 minutes more).

While the potatoes are cooking, bring cream and garlic to a simmer in a small saucepan over medium heat. Reduce heat to maintain a simmer, and cook until the cream has thickened a bit (about 10 minutes), stirring occasionally. Keep a watchful eye here, because the cream can boil over. Season to taste with salt and a lot of black pepper. Take the cream off the heat, strain out the garlic and set aside. Rewarm before adding to the potatoes if needed.

Open the foil packet, place potatoes on a cutting board, and using the bottom of a glass or small bowl, gently smash each of the potatoes. Place smashed potatoes in a large bowl, then add warm cream, labneh, 2 tablespoons chopped chives and 2 tablespoons chopped dill, gently mixing to combine.

The texture should be on the rustic side. Season to taste with salt and pepper, then top with remaining herbs and bit more black pepper.
Clap if you liked this recipe!
Smashed Grilled Potatoes with Sour Cream
theSkullery.net