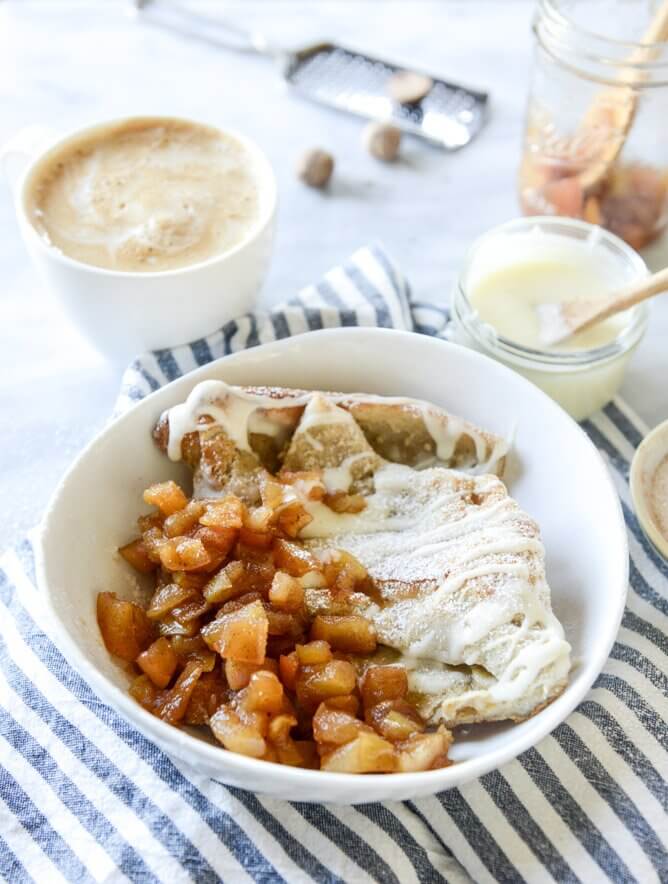 Vanilla Cinnamon Roll Dutch Baby
---
---
Ingredients for servings
2 tbsp unsalted butter

0.6666 cup(s) all-purpose flour

2 tbsp sugar

0.5 tsp cinnamon

pinch of salt

3 large eggs

0.75 cup(s) milk

1 tbsp vanilla bean paste

powdered sugar, for sprinkling

for the apple bourbon compote

4 honeycrisp apples, chopped

0.25 tsp cinnamon

0.25 tsp nutmeg

0.25 tsp salt

0.3333 cup(s) brown sugar

0.3333 cup(s) bourbon

0.3333 cup(s) apple cider

cream cheese icing

for the cream cheese icing

2 tbsp cream cheese, softened

2 tbsp unsalted butter, softened

2 tsp vanilla extract

1.5 cup(s) powdered sugar

2 tbsp milk
Directions
Preheat the oven to 200°C. Place the butter in a cast iron or oven safe skillet/baking dish. Place it in the oven just until it melts.

Whisk together the flour, sugar, cinnamon and salt in a large bowl. In a smaller bowl, whisk together the eggs, milk and vanilla paste. Stir the wet ingredients into the dry, whisk until no lumps remain. Take the skillet out of the oven and pout the batter in.

Place it right back in the oven and bake for 18 to 20 minutes, or until puffed and golden. When finished, sprinkle with powdered sugar and cover with cream cheese glaze. Served immediately with the apple compote.

Apple Bourbon Compote

Combine all ingredients in a saucepan over medium heat, stirring to toss. Cook on medium-low, stirring occasionally, until the sugar has dissolved, the liquid is bubbly and the apples are softening, about 15 to 20 minutes. The mixture should be golden in color. Remove and let it cool – it will thicken as it does.

Cream Cheese Icing

Whisk together the cream cheese, butter and vanilla extract until smooth. Add in the powdered sugar and 1 tablespoon of milk, whisking until a smooth glaze forms and no lumps remain. You want the glaze pourable or drizzle-able, so if it's too thick, add in more milk 1 to 2 teaspoons at a time. If it gets to runny, add in more powdered sugar 1/3 cup(s) at a time. Pour over warm dutch baby.
Clap if you liked this recipe!
Vanilla Cinnamon Roll Dutch Baby
theSkullery.net