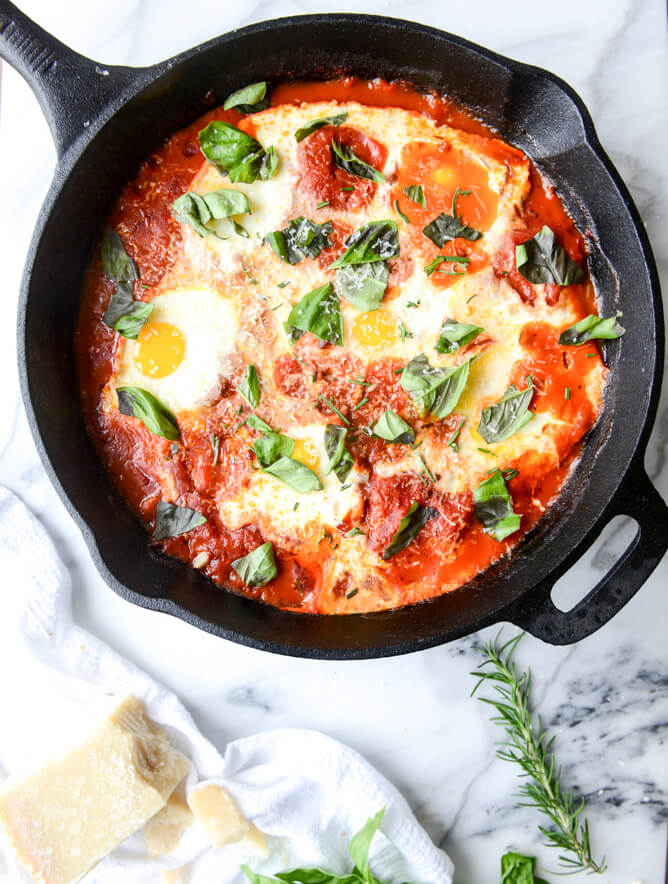 Spicy Arrabiatta Baked Eggs
---
---
Ingredients for servings
2 slices bacon, diced

0.5 sweet onion, diced

2 garlic cloves, minced

1 tbsp tomato paste, I really love this basil one!

0.3333 tsp smoked paprika

0.25 tsp salt

0.25 tsp pepper

0.25 tsp crushed red pepper flakes

2.5 cups spicy tomato sauce

1 jar of roasted red peppers, drained

6 large eggs

0.5 cup freshly grated Parmigiano-Reggiano

fresh herbs for topping, basil, rosemary, thyme

doughy bread for serving
Directions
Preheat the oven to 200°C.

Heat an oven-safe skillet over medium-low heat and add the bacon. Cook for 4 to 5 minutes. Once some of the fat as rendered, stir in the onion and cook until it softens, about 5 to 6 minutes, and the bacon is crispy. Stir in the garlic and cook for 1 minute. Stir in the tomato paste, paprika, salt, pepper and pepper flakes. Cook for another minute. Pour in the tomato sauce and stir. Bring the sauce to a simmer and turn off the heat. Stir in the roasted red peppers. Gently crack each egg into the sauce, creating a little well with a spoon.

Bake the eggs until the whites are cooked through and the yolks just set (or to your desired doneness), about 15 or 20 minutes. Top with a bunch of fresh herbs and the grated parm. Scoop the eggs into a bowl with the sauce and serve immediately with crusty bread.
Notes
You can also make these in little ramekins for single serving portions.
Clap if you liked this recipe!
Spicy Arrabiatta Baked Eggs
theSkullery.net