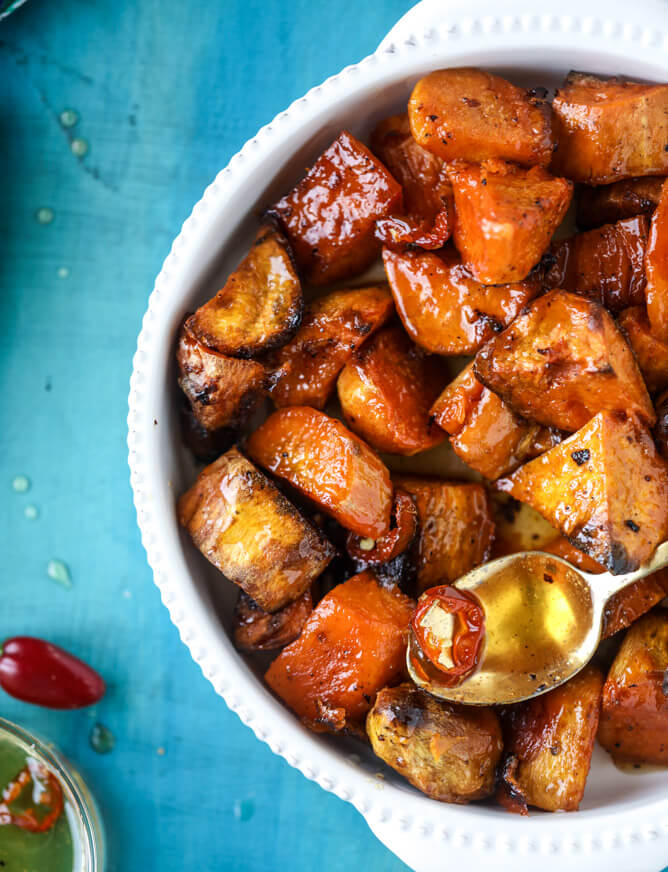 Honey Caramel Sweet Potatoes
---
---
Ingredients for servings
2 pounds sweet potatoes, peeled and chopped into large chunks

4 tbsp unsalted butter, melted

0.5 tsp salt

0.5 tsp pepper

1.5 tbsp brown sugar

0.5 cup(s) honey

1 jalapeño pepper, thinly sliced
Directions
Preheat the oven to 200°C. Place the sweet potatoes in a baking dish or on a baking sheet in a single layer.

Drizzle the potatoes with the melted butter, sprinkle with salt and pepper and sprinkle on the brown sugar. Toss and stir so all of the pieces are coated.

Roast the potatoes for 20 minutes. Remove the dish from the oven and gently flip the potatoes, roasting again for 20 minutes. The potatoes should be tender, caramely and charred in some places.

Heat the honey and the jalapeños in a saucepan over medium-low heat. Let the honey come to a light simmer then turn off the honey. Let it sit for 5 minutes. Strain the honey through a fine mesh sieve to remove the peppers and the seeds.

When the sweet potatoes are golden and caramely and delicious, remove them from the oven and drizzle them with the honey to serve. Serve immediately!
Clap if you liked this recipe!
Honey Caramel Sweet Potatoes
theSkullery.net