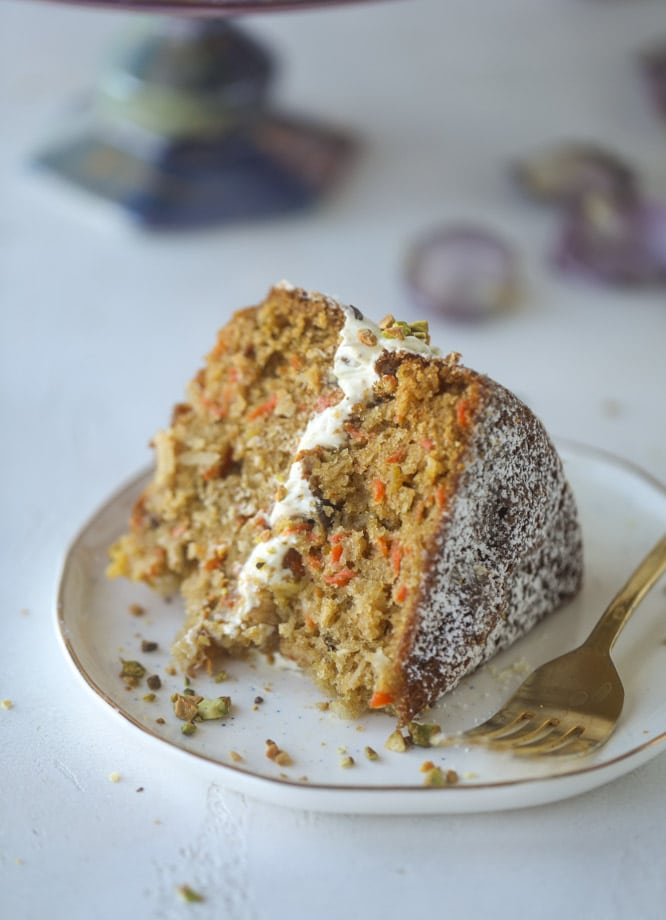 ---
---
Ingredients for servings
2 cup(s) all-purpose flour

2 tsp baking soda

0.5 tsp salt

1 tsp cinnamon

3 large eggs lightly beaten

1.75 cup(s) sugar

0.75 cup(s) vegetable oil

0.75 cup(s) buttermilk

2 tsp vanilla extract

0.25 tsp almond extract

2.5 cup(s) freshly grated carrot

1 can crushed pineapple, drained

1 cup(s) shredded coconut

0.75 cup(s) chopped pistachios I like using roasted, unsalted ones

for the cream cheese frosting

2 blocks cream cheese

0.5 cup(s) unsalted butter

2.5 cup(s) powdered sugar

1 tsp vanilla extract

0.66 cup(s) finely chopped pistachios
Directions
Preheat the oven to 170°C. Grease (or spray with nonstick baking spray) three cake pans (or the ones I used were a 7 cup(s) on top and an 8 cup(s) on the bottom).

In a bowl, whisk together the flour, baking soda, salt and cinnamon.

In the bowl of your electric mixer, beat the eggs and sugar together until combined. beat in the oil, buttermilk and vanilla and almond extract until combined. Beat in the dry ingredients until just combined. Use a spatula to fold in the carrot, pineapple, coconut and pistachios.

Drive the batter evenly between the 2 pans. Bake for 25 to 30 minutes, or until golden brown and the center is set. Let the cake cool completely.

For the cake in this pan, I like to do a layer of frosting in the center and then a light layer on the outsides, leaving the top plain. Sprinkle the top with powdered sugar before serving.

Cream Cheese Frosting

Beat the cream cheese and butter together until creamy. Beat in the sugar until combined. Beat in the vanilla extract. Fold in the pistachios. Frost the cooled cake.
Clap if you liked this recipe!
Pistachop Carrot Cake
theSkullery.net