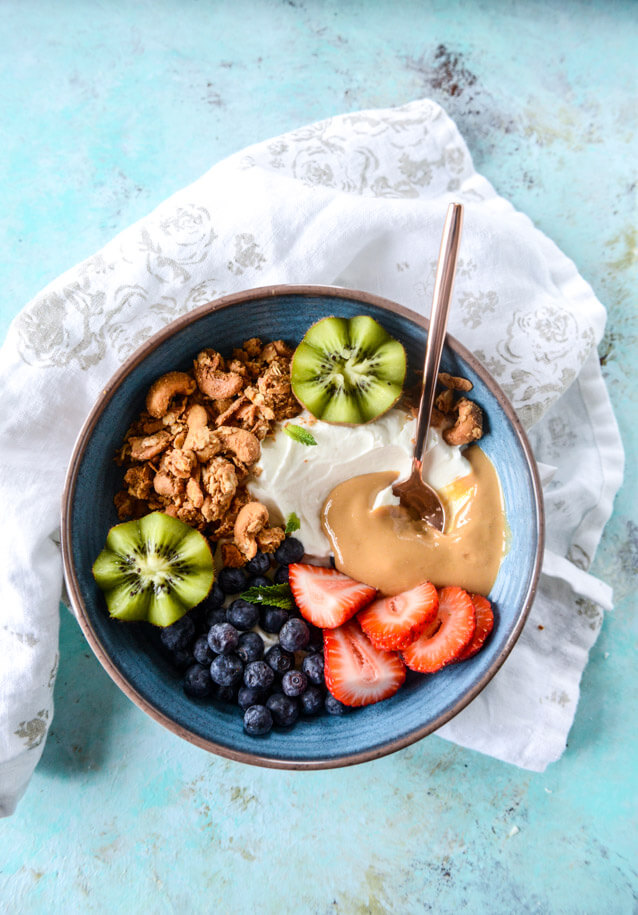 ---
---
Ingredients for servings
2 cup(s) old-fashioned rolled oats

1 cup(s) quick-cook oats

1 cup(s) flaked coconut, unsweetened

1 cup(s) roasted, salted cashews some chopped, some whole

0.75 cup(s) cashew butter

3 tbsp maple syrup

2 tbsp coconut oil

1 tsp vanilla extract
Directions
Preheat the oven to 160°C. Line a baking sheet with parchment paper.

In a large bowl, stir together the oats, coconut and cashews.

In a saucepan, stir together the cashew butter, coconut oil and syrup. Heat over low heat until warm and the coconut oil is melted.

Pour the cashew butter mixture into the oats and stir well, tossing to coat until evenly dispersed. I like to mix it with my hands to really make every piece wet with the cashew butter.

Spread evenly on the baking sheet in one layer. Bake for 15 minutes, toss and then bake for 15 minutes more. Toss again, then bake for about 15 to 20 more minutes, stirring every 3 minutes or so until the mixture is golden.

Remove from the oven and set aside to cool for about an hour. After the hour the granola should be hardened – this is when you can break it into clumps and pieces.

Store in an airtight container – this stays good for a week or two.
Clap if you liked this recipe!
Cashew Butter Granola
theSkullery.net