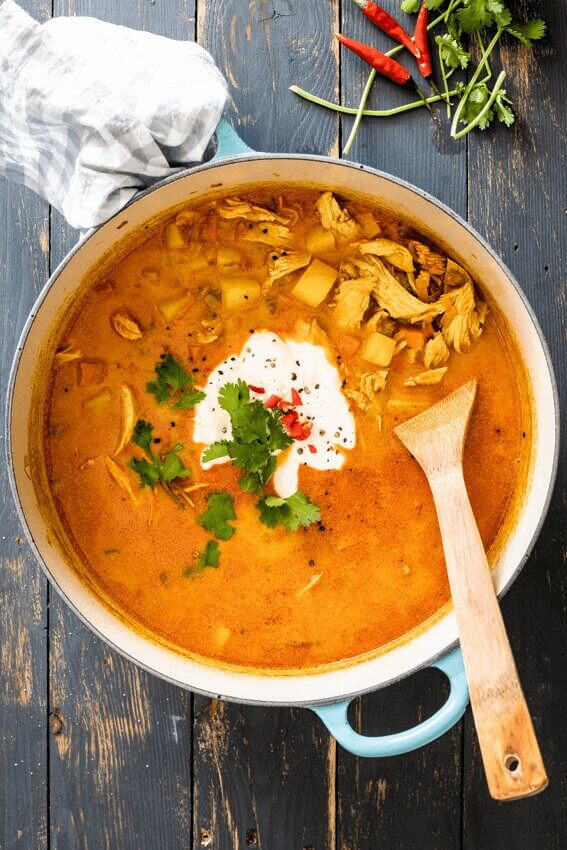 ---
---
Ingredients for servings
2 tbsp butter alternatively use ghee or coconut oil

2 onions, finely chopped

2 celery spears, finely chopped

2 carrots peeled, finely chopped

2 large leeks, finely chopped

1 butternut squash

4 garlic cloves, crushed

2 tsp ginger, crushed

2 tsp ground turmeric

2 tsp curry powder

1 tsp ground cinnamon

1 tsp chili powder

1 tsp paprika

2 bay leaves

2 large potatoes, peeled and cubed

6 cups chicken stock 1.5 liters

4 chicken breasts, de-boned & skinless

1 cup cream/coconut milk

salt to taste

1 cup(s) cream/coconut milk

salt

pepper

lemon juice

plain yoghurt for serving

fresh coriander/cilantro for serving
Directions
Melt the butter and a splash of oil optional in a large pot.

Add the onion, celery, leek and carrot and fry for 10 minutes until soft and fragrant.

Add the garlic and ginger and fry for a min

Add the spices.

Stir together.

Add the potato and fry for another minute before pouring in the chicken stock.

Season with salt and pepper, add the cream.

Add the chicken breasts then cover and allow to simmer for 7-10 mins until the chicken is cooked. Remove from the pot and allow to cool slightly.

Place the lid back on the pot and allow to simmer for another 10 minutes.

Shred the chicken and add back to the soup. Simmer for 5 minute then season to taste.

Serve with plain yoghurt and fresh coriander/cilantro.
Clap if you liked this recipe!
Chicken Curry Soup
theSkullery.net