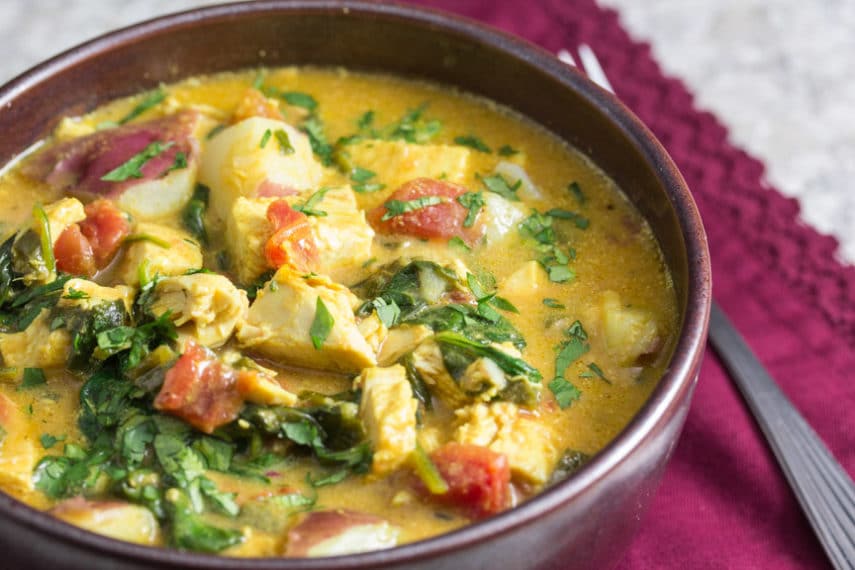 ---
---
Ingredients for servings
3 full turkey breasts

1 can light coconut milk

0.3333 cup(s) cider vinegar

0.3333 cup(s) soy sauce

5 garlic cloves

3 bay leaves

1 cup(s) spinach

0.25 cup(s) teriyaki sauce

2 tbsp Worchestershire sauce

1 tsp paprika

1 tsp crushed black pepper

1 tsp sugar

1 tbsp crushed parsley

1 tbsp salt
Directions
Drizzle a skillet with rapeseed oil.

Place turkey breasts in the skillet and fry until lightly browned.

Pour coconut milk, vinegar, soy sauce, bay leaves, and gradually add all the rest of the spices.

Bring to a simmer.

Remove the turkey.

Add spinach into the sauce and simmer for 5 minutes.

Add the turkey back into the sauce and cook for another 5 minutes.
Notes
Best served with basmati rice or potato wedges.
Clap if you liked this recipe!
Coconut Turkey
theSkullery.net