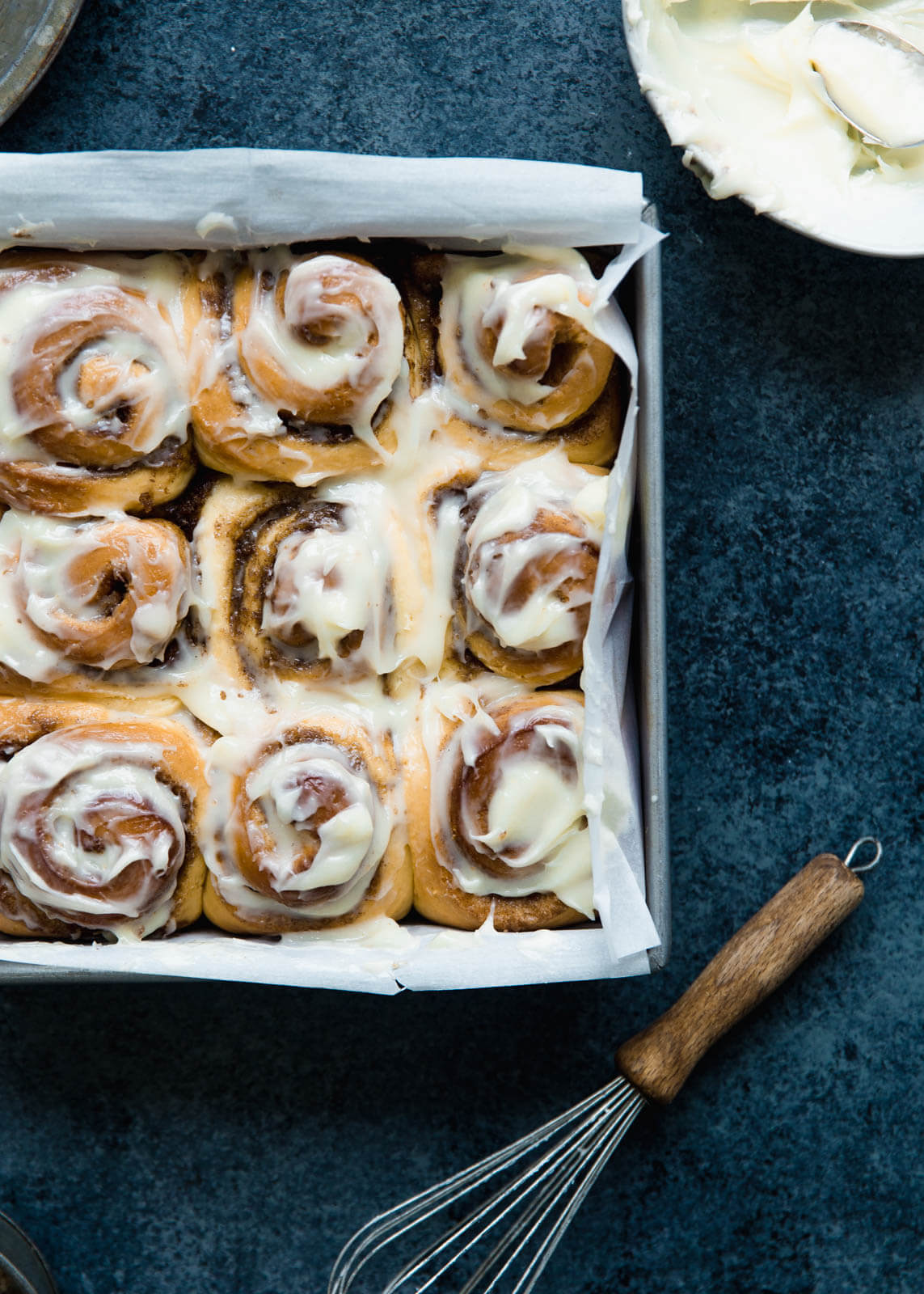 ---
---
Ingredients for servings
for the dough

0.5 cup(s) unsalted butter, melted

2 cup(s) milk, warm

0.5 cup(s) granulated sugar

2.25 tsp dry yeast

5 cup(s) plain flour

1 tsp baking powder

2 tsp salt

for the filling

3 tbsp butter, softened

1 cup(s) brown sugar

3 tbsp ground cinnamon

for the frosting

125 g cream cheese, softened

1.5 tbsp butter, melted

2 tbsp milk

1 tsp vanilla extract

0.75 cup(s) powdered sugar
Directions
Dough

Butter a wide oven pan and line with baking parchment.

In a bowl mix warm milk, melted butter and the granulated sugar.

Sprinkle the yeast over the mixture and let sit for 1 min.

Add 4 cup(s) of flour and mix until combined.

Cover the bowl and let set in a warm place to rise for 1 hour.

Knead the dough adding additional flour as necessary until the dough looses its stickiness.

Roll the dough in a rectangular shape (1 cm thick).

Spread the softened butter with a kithen brush over the dough.

Sprinkle evenly with brown sugar and cinnamon.

Press the mixture into the dough gently.

Roll up the dough into a log and leave seem side down.

Cut the log in even pieces (about 8cm thick each).

Place all cinnamon rolls in the baking tray - set aside until you finish the frosting.

Preheat oven to 180°C.

Frosting

In a bowl mix cream cheese, butter, milk, vanilla, and powdered sugar until smooth.

Bake the cinamon rolls until golden brown. (approx 25-30 mins)

While still warm drizzle evenly with frosting.
Clap if you liked this recipe!
Cinnamon Rolls
theSkullery.net