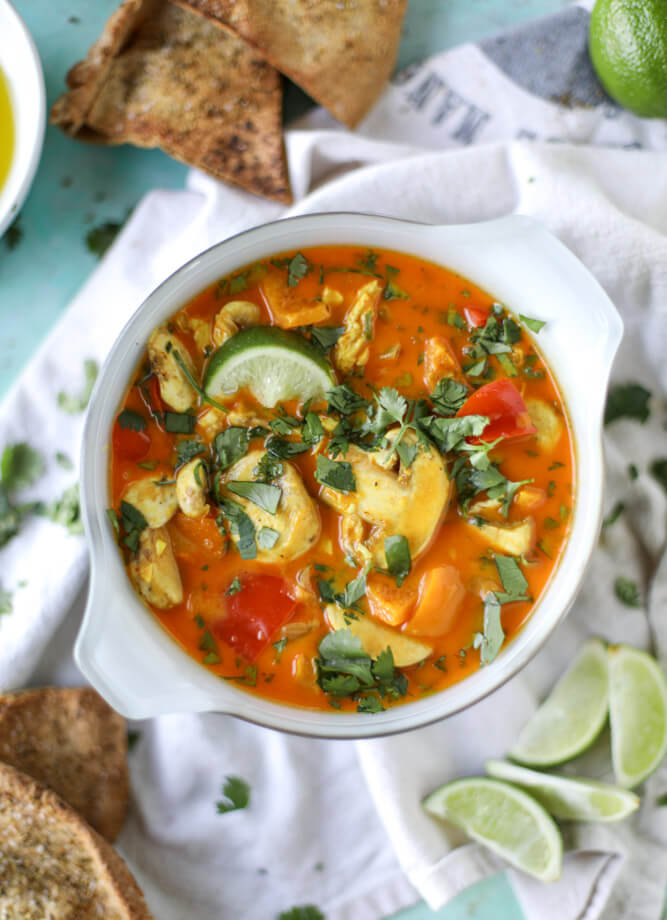 ---
---
Ingredients for servings
for the chicken soup

2 tbsp coconut oil

0.5 sweet onion, diced

0.5 red bell pepper, diced

0.5 orange bell pepper, diced

0.5 tsp salt

0.5 tsp pepper

2 garlic cloves, minced

0.5 tsp freshly grated ginger

2 tsp ground turmeric

12 oz sliced mushrooms

1 can(s) full-fat coconut milk

1 can(s) light coconut milk

8 oz low sodium chicken stock

2 chicken breasts, cooked and shredded

3 tbsp fresh chopped cilantro, plus extra for topping

for the crispy spiced pitas

3 pita breads

3 tbsp olive oil

0.5 tsp salt

0.5 tsp pepper

0.5 tsp oregano leaves

0.5 tsp minced garlic

0.25 tsp crushed red pepper

0.25 tsp ground turmeric
Directions
Heat a large pot over medium heat and add the coconut oil.

Stir in the onions, peppers, a pinch of salt and pepper and stir to toss. Cover and cook until the vegetables have slightly softened, about 5 minutes. Add in the garlic, ginger and turmeric and stir to coat. Cook for 5 minutes, stirring occasionally, scraping the bottom. Add in the mushrooms, stock and coconut milk. Increase heat and bring the mixture to a boil, then reduce the heat to low, cover and cook for 5 minutes. Stir in the chicken and cilantro and cook for 5 minutes more.

To serve, ladle into a bowl. Top with extra cilantro and serve with the pitas on the side.

crispy spiced pitas

Preheat the oven to 200°C. Brush each pita with olive oil. In a bowl, stir together the spices. Sprinkle them over the pita and cut the pita into wedges.

Bake the pita for 10 to 12 minutes, until golden and crunchy. Serve immediately.
Clap if you liked this recipe!
Coconut Chicken Soup
theSkullery.net