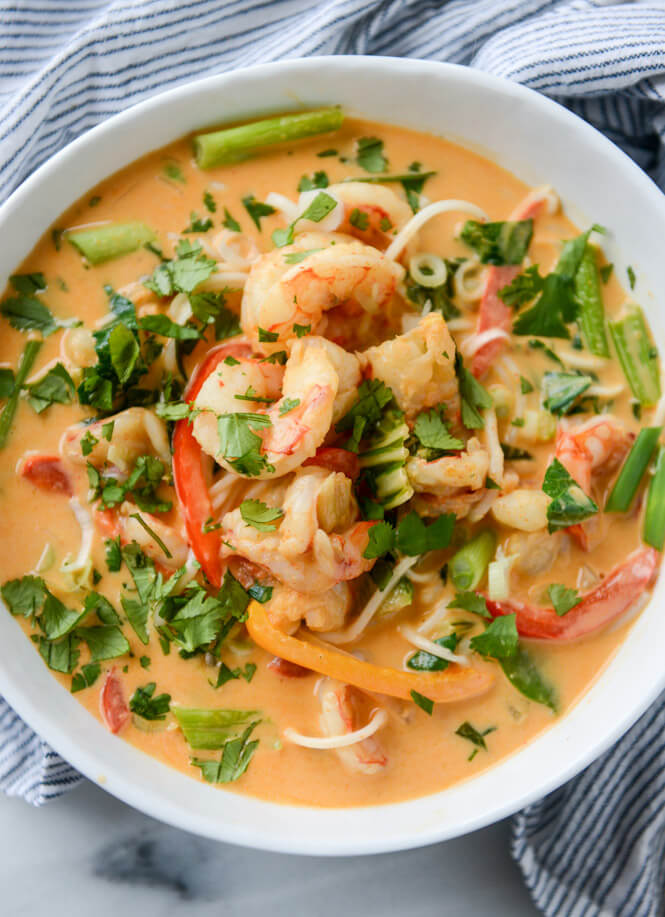 Coconut Curry Shrimp Noodles
---
---
Ingredients for servings
3 tbsp coconut oil

0.5 pound raw peeled and deveined shrimp, patted dry

0.5 sweet onion, sliced

0.5 red bell pepper, sliced

0.5 orange bell pepper, sliced

0.5 tsp salt

0.5 tsp pepper

2 garlic cloves, minced

0.5 tsp freshly grated ginger

2 tbsp red curry paste

0.3333 cup(s) sugar snap peas

1 can full-fat coconut milk

1 can light coconut milk

6 ounces cooked rice noodles soba noodles or spaghetti work, too

3 tbsp fresh chopped cilantro

2 green onions, sliced
Directions
Heat a large skillet over medium heat and add 2 tbsp of the coconut oil. Add in the shrimp and cook until opaque and pink on both sides. Sprinkle with salt and pepper Remove the shrimp and place it in a bowl off to the side.

Add the remaining coconut oil to the pot. Stir in the onions, peppers, more salt and pepper and stir to toss. Cover and cook until the vegetables have slightly softened, about 5 minutes. Add in the garlic, ginger and curry paste and stir to coat.

Cook for 5 minutes, stirring occasionally, scraping the bottom. Add in the snap peas and coconut milk. Increase heat and bring the mixture to a boil, then reduce the heat to low, cover and cook for 5 minutes.

Stir in the shrimp and cilantro and cook for 5 minutes more.

To serve, place a handful of rice noodles in a bowl and cover with the shrimp curry. Top with extra cilantro or green onions.
Clap if you liked this recipe!
Coconut Curry Shrimp Noodles
theSkullery.net