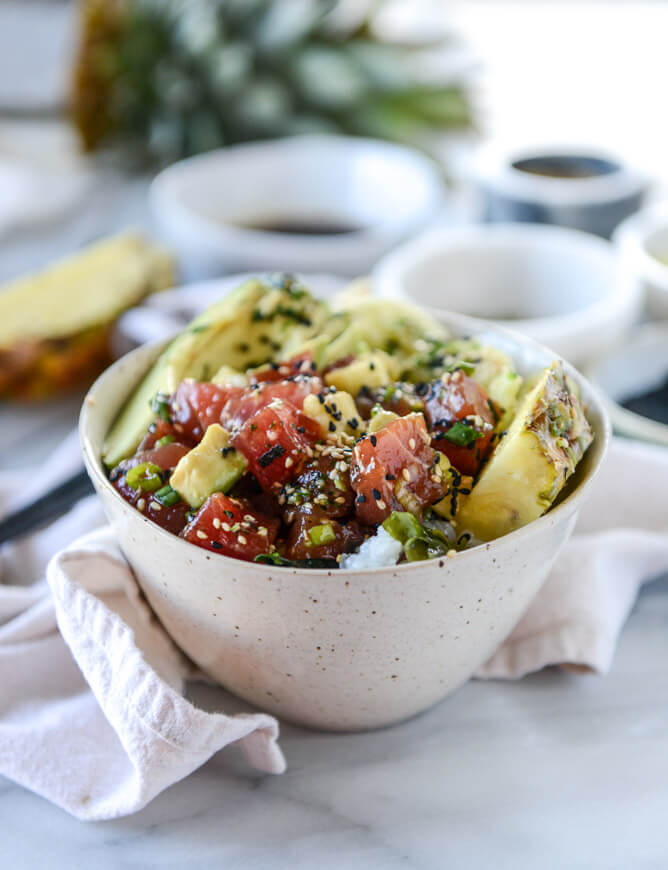 ---
---
Ingredients for servings
1 pound sushi-grade ahi tuna, cut into cubes

0.25 cup(s) low-sodium soy sauce

3 tbsp toasted sesame oil

1 tbsp rice vinegar

1 tsp toasted sesame seeds

1 tsp black sesame seeds

0.5 tsp freshly grated ginger

1 garlic clove(s), freshly grated

4 green scallions, thinly sliced

2 avocados, 1 cubed and 1 sliced

0.3333 cup(s) cubed pineapple

1 seedless cucumber, cut into half moons

for serving

your favorite rice

seaweed salad

tortilla chips
Directions
Place the tuna in a large bowl. In a smaller bowl, whisk together the soy sauce, oil, vinegar, sesame seeds, ginger and garlic. Pour over the tuna and toss to coat. Stir in the green onion. - Cover the bowl with plastic wrap and place it in the fridge to chill for 10 minutes.

Right before serving, stir in the cubed avocado and the pineapple.

To make the bowls, place rice in the bowl. Cover with a handful of cucumbers I like to toss mine in toasted sesame oil, seaweed salad, extra sliced avocado, and a big scoop of the tuna and marinade. Top with extra sesame seeds. This is wonderful eaten with tortilla chips!
Clap if you liked this recipe!
Pineapple Ahi Poke Bowl
theSkullery.net