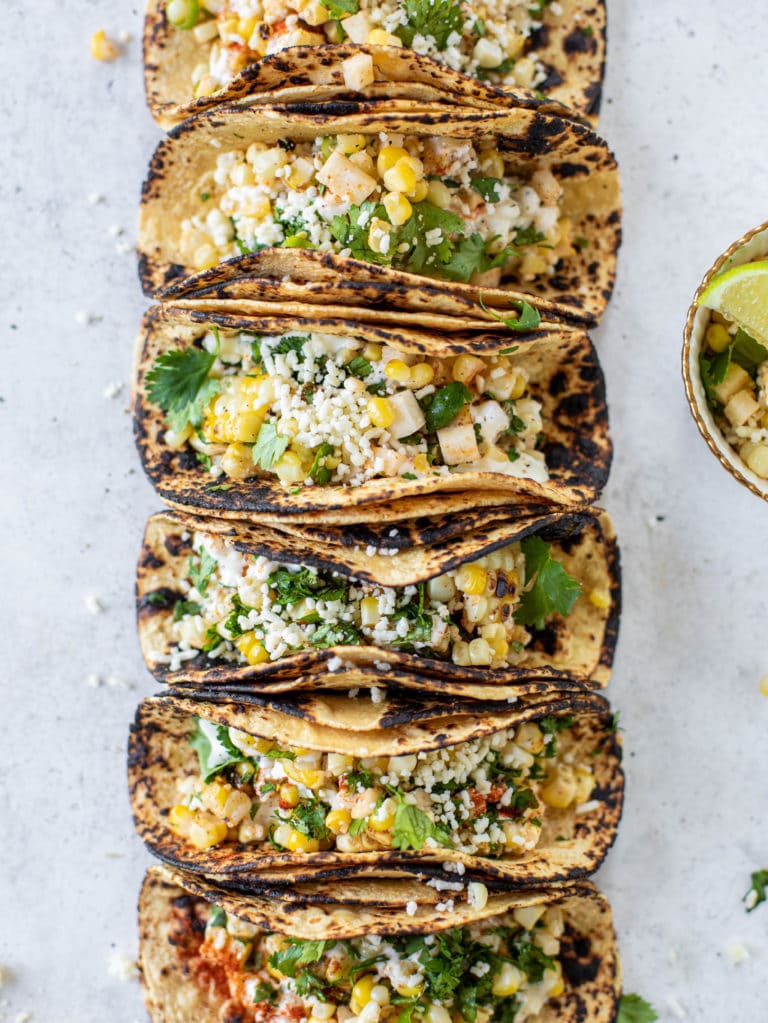 ---
---
Ingredients for servings
for the corn salad

4 ears corn, shucked

1 celery, peeled and diced or jicama, should you have access to it

0.5 cup(s) chopped cilantro, plus more for serving

0.3333 cup(s) sliced green onions

0.25 cup(s) crumbled cotija cheese, plus more for topping see note

0.25 tsp salt

0.25 tsp freshly cracked black pepper

0.25 tsp chili powder

0.25 tsp smoked paprika

1 lime, juiced and zest freshly grated

for the garlic lime mayo

0.5 cup(s) mayo

2 garlic cloves, minced

1 lime, juiced

for serving

8 corn tortillas, warmed

lime wedges for spritzing
Directions
Preheat your grill to medium-high.

Brush the corn with olive oil and sprinkle with salt and pepper.

Place the ears on the grill and cook until the corn is golden or charred – whichever you prefer – turning the ears as you go. It will take about 8 to 10 minutes. Remove the corn from the grill and let it cool slightly.

Once the corn is cool, slice the kernels off the cob. In a large bowl, stirl together the corn, jicama, cilantro, green onions, cotija, chili powder, paprika salt and pepper. Stir in the lime zest and juice.

Drizzle the garlic mayo on the tortilla. Add a few spoonfuls of the corn salad mixture on top. You can drizzle more of the mayo on if you wish!

Top with more cotija cheese and cilantro and serve.
Notes
A good substitute for fresh cotija cheese is feta. A good substitute for aged cotija cheese is Parmeggiano Regiano or Pecorino Romano.
Clap if you liked this recipe!
Corn & Celery Tacos
theSkullery.net