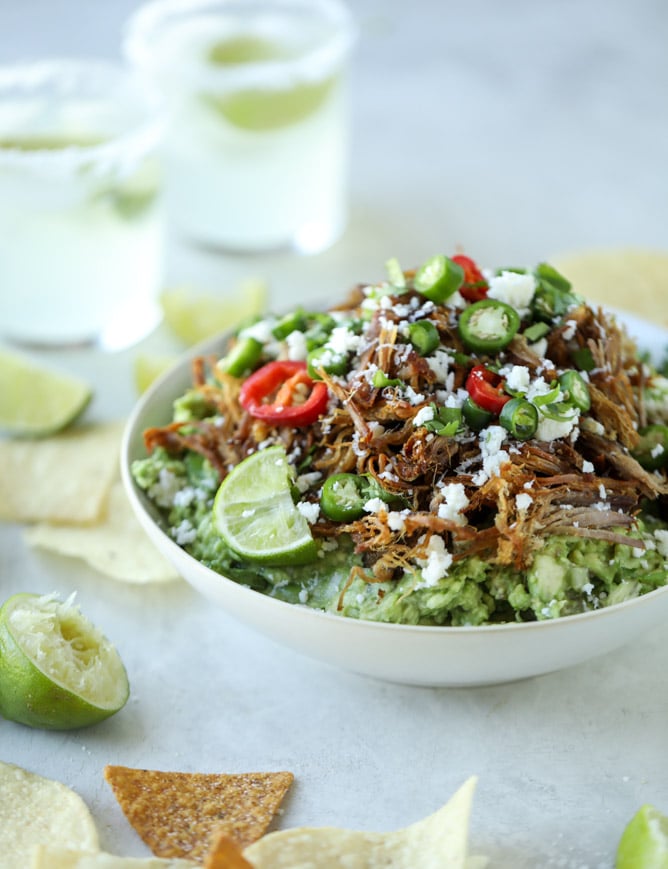 Crispy Carnitas Guacamole
---
---
Ingredients for servings
1 cup(s) pulled pork

4 ripe avocados

1 jalapeño pepper, seeded and diced

0.3333 cup(s) crumbled queso fresco cheese plus extra for topping

0.25 cup(s) chopped fresh cilantro

3 tbsp diced sweet onion

1 lime, juiced

0.25 tsp salt

0.25 tsp pepper

1 jalapeño pepper, sliced for topping
Directions
You can easily make the pork ahead of time or use leftover pulled pork, which is what I'd suggest for this recipe. Before serving the pork, I like to crisp it up in the oven. To do this, I spread the shredded pork in a large baking dish. Preheat the oven to 220°C.

Place the baking dish in the oven and roast for 20- 30 minutes, tossing the pork with a fork every 10 minutes. You don't HAVE to do this step, but it really makes it taste more like authentic carnitas.

Place the avocados, the cheese, cilantro, onion, lime juice, salt and pepper to a bowl and mash it! Mash and stir until everything is combined. Make it as smooth or as chunky as you'd like.

Taste and season with additional salt, pepper or lime juice if needed. Top with the pork, a sprinkle of extra cheese and cilantro and a few sliced peppers.
Clap if you liked this recipe!
Crispy Carnitas Guacamole
theSkullery.net