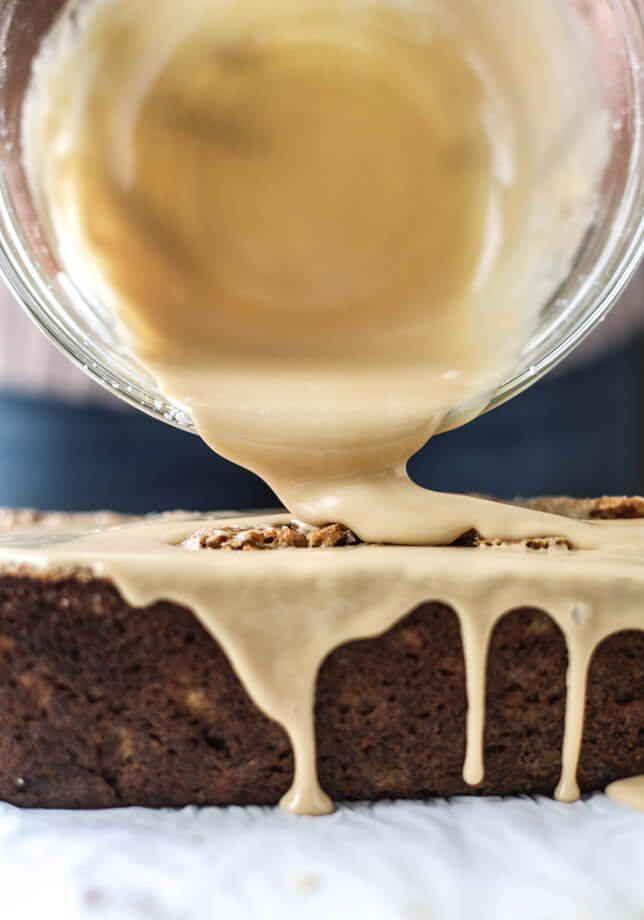 Espresso Glaze Banana Bread
---
---
Ingredients for servings
for the banana bread

1.33 cup(s) whole wheat pastry flour

1 tsp baking soda

1 tsp espresso powder

0.5 tsp salt

0.25 tsp cinnamon

2 large eggs

1 cup(s) loosely packed brown sugar

0.33 cup(s) milk

0.5 cup(s) coconut oil melted and slightly cooled

4 bananas mashed

1 tsp vanilla extract

coarse sugar for sprinkling

for the espresso glaze

1.5 cup(s) powdered sugar

2 oz freshly brewed espresso

1 tsp milk

0.5 tsp vanilla extract
Directions
Preheat oven to 160°C. Spray a loaf pan thoroughly with nonstick spray. In a small bowl, combine the flour, baking soda, cinnamon and salt, whisking thoroughly. Set aside.

In a large bowl, whisk together the eggs and brown sugar until smooth. Add in the milk and coconut oil, whisking until combined. Stir in the mashed bananas and vanilla extract until mixed. Slowly stir in the dry ingredients and mix until just combined. Pour batter in the greased loaf pan. Top with coarse sugar.

Place the loaf pan on a baking sheet and set in the oven. Bake for 75 to 85 minutes, or until the center is set. If the streusel begins to brown, tent the bread with aluminum foil. Remove the bread and let it cool in the pan for 20 minutes. Gently turn the bread out on a plate or cutting board and let it cool completely before glazing.

Espresso Glaze

Whisk together the ingredients until a smooth, drippy glaze forms. If the mixture is too thin, you can thicken it by adding a little more powdered sugar. If it seems too thick, add 1 tsp of milk at a time, whisking to combine. Pour it over the banana bread and let it set for 30 minutes before slicing.
Clap if you liked this recipe!
Espresso Glaze Banana Bread
theSkullery.net