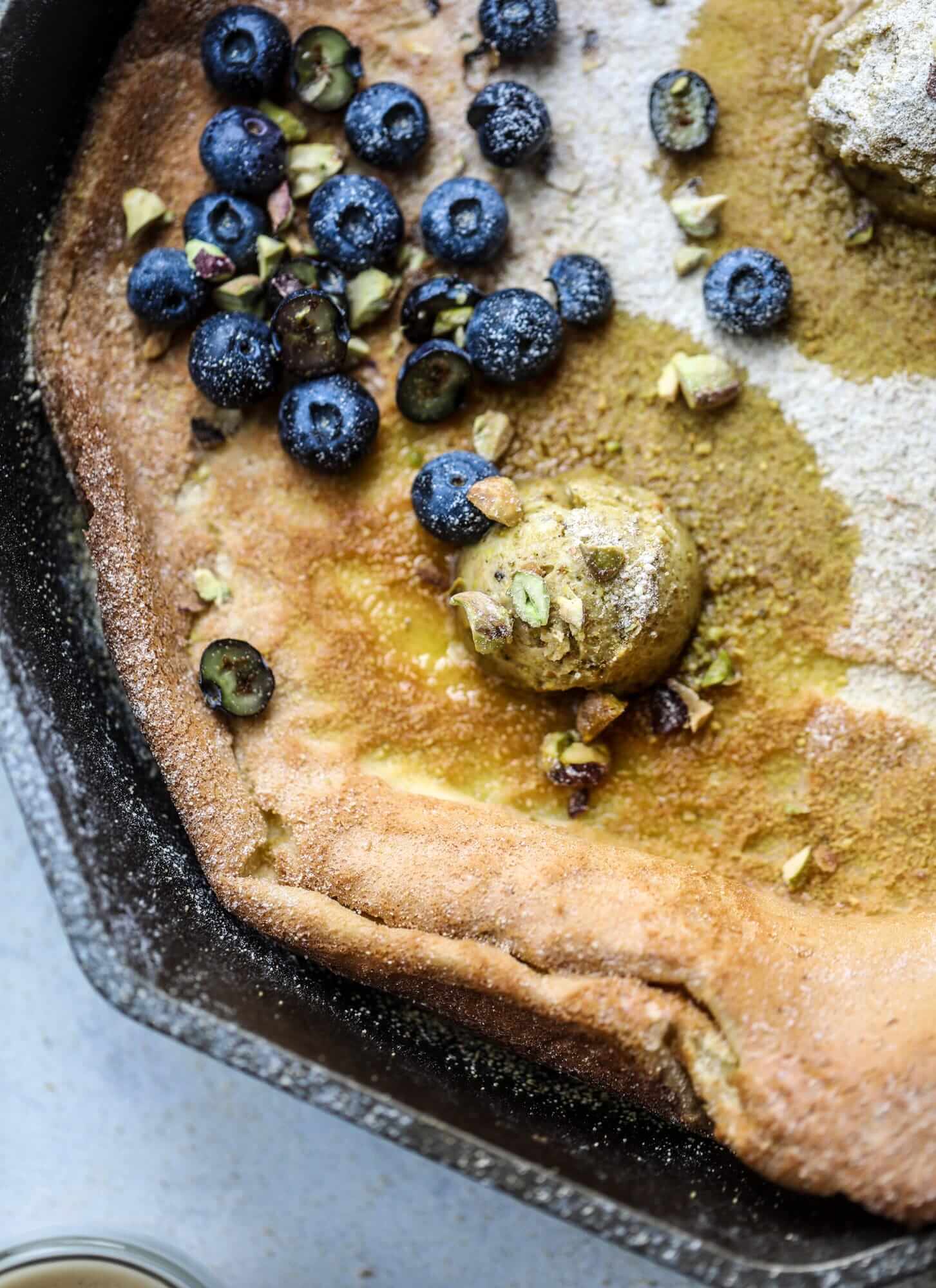 Pistachioo Butter Dutch Baby
---
---
Ingredients for servings
for the dutch baby

2 tbsp unsalted butter

0.6666 cup(s) all-purpose flour

2 tbsp sugar

0.5 tsp cinnamon

pinch of salt

3 large eggs

0.75 cup(s) milk

1 tbsp vanilla bean paste

1 cup(s) blueberries, chopped

for the pistachio butter

3 tbsp finely ground pistachios

6 tbsp unsalted butter

for the pistachio sugar

3 tbsp finely ground pistachios almost to powder

0.25 cup(s) powdered sugar
Directions
Dutch Baby

Preheat the oven to 200°C. Place the butter in a cast iron or oven safe skillet / baking dish. Place it in the oven just until it melts.

Whisk together the flour, sugar, cinnamon and salt in a large bowl. In a smaller bowl, whisk together the eggs, milk and vanilla paste. Stir the wet ingredients into the dry, whisk until no lumps remain. Take the skillet out of the oven and pout the batter in. Place it right back in the oven and bake for 18 to 20 minutes, or until puffed and golden.

Remove the dutch baby and immediately add a few scoops of the pistachio butter. Dust on the pistachio sugar and top with blueberries. Serve warm!

Pistachio Butter

Whisk together the butter and pistachios until combined. You can use it just like this or place it in the fridge to harden a bit. If so, you can wrap it tightly in plastic wrap and store it until needed.

Pistachio Sugar

Whisk together the pistachios and powdered sugar. Use a fine mesh strainer to sprinkle.
Clap if you liked this recipe!
Pistachioo Butter Dutch Baby
theSkullery.net