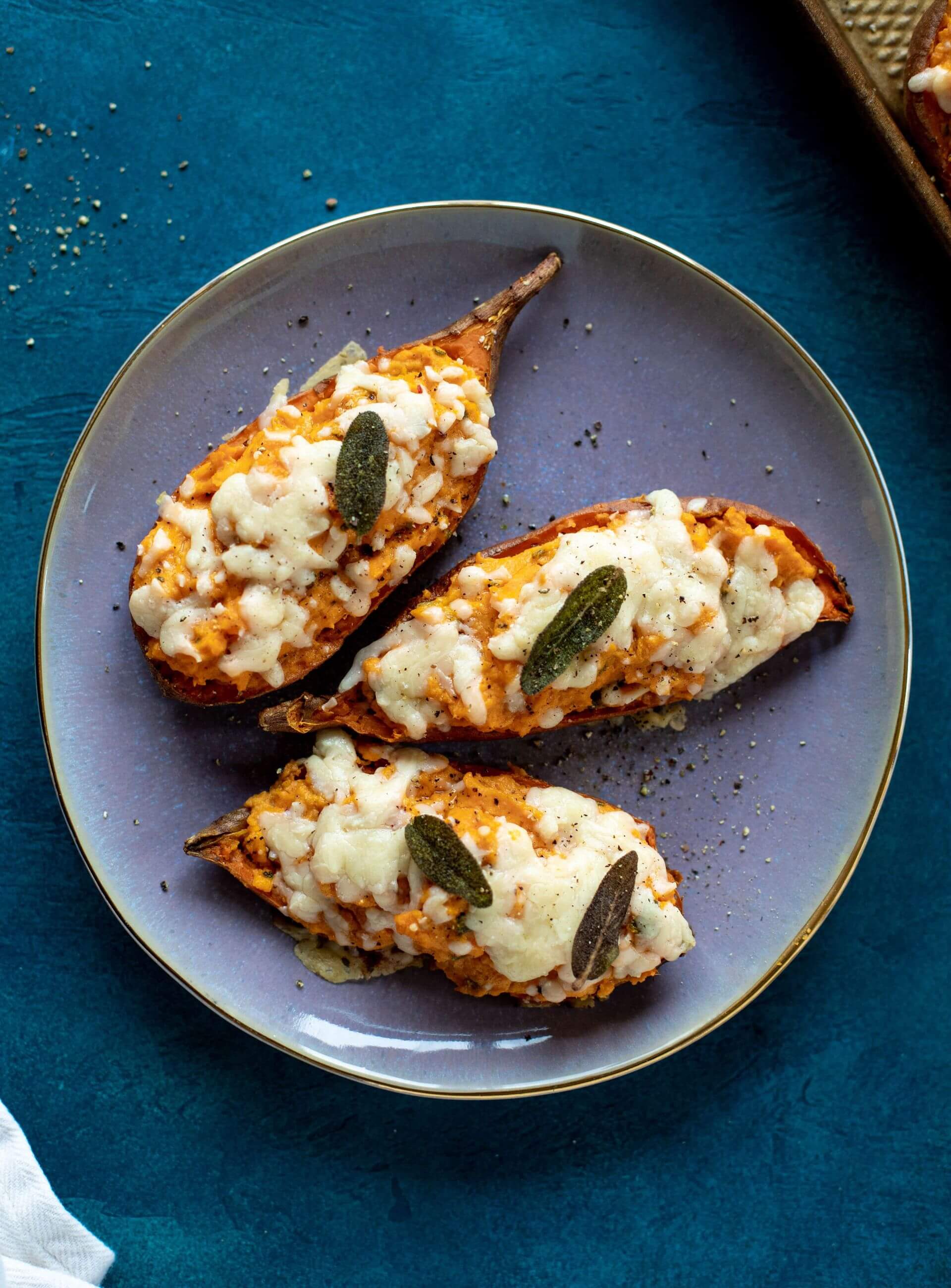 Twice-Baked Sweet Potato with Pumpkin
---
---
Ingredients for servings
4 medium sweet potatoes

3 tbsp unsalted butter

1 handful of sage, about 15 to 20 leaves

0.5 cup(s) pumpkin puree see note

0.5 tsp salt

0.5 tsp freshly cracked black pepper

0.75 cup(s) freshly grated parmesan cheese (I love a parm-cheddar mix, like sartori montemori or trader joe's unexpected cheddar)
Directions
Preheat the oven to 200°C. Poke a few holes in the sweet potatoes with a fork. Place them on a baking sheet and bake until potatoes are tender, about 45 to 60 minutes.

While the potatoes are cooking, place the butter in a saucepan over medium heat. Add the sage leaves and cook until they are just crispy, 1 to 2 minutes, then remove the leaves with kitchen tongs and place them on a paper towel.

Let the potatoes cool slightly, then slice them down the center lengthwise. Gently scoop out the sweet potato flesh, leaving the skin in tact so you can stuff it.

Place the sweet potato in the bowl of an electric mixer. you can totally mash it with a fork, but I find that whipping it in a mixer makes it super silky and fluffy

Add the salt, pepper, pumpkin puree, half of the crispy sage leaves and all of the butter. Add half of the cheese mixture. Mix on medium speed until combined and smooth.

Scoop the mixture back into the sweet potato skins. Sprinkle with the remaining cheese. Bake for 15 to 20 minutes, or until potatoes are warmed through and the cheese is melty. Remove the potatoes from the oven and top with the remaining sage leaves. Serve!
Notes
If you can't find canned pumpkin puree, check out this recipe to make it at home.
Clap if you liked this recipe!
Twice-Baked Sweet Potato with Pumpkin
theSkullery.net